This post contains affiliate links if clicked on I may receive a small commission to support this blog. 
Want a hilarious family game to play during the Holidays? Your search is over. Watch Ya Mouth is a fun game that you'll enjoy playing and watching other people play.
I had the chance to see this game in action at a Toy Insider event I went to and I could not stop laughing. It's such a fun game with the simplest concept. It's great for all ages and for any type of party whether it's a family night, girl's night in or just a regular hanging with friends type of night. But don't take it from me. Watch the video above and I guarantee you'll be laughing before it's over.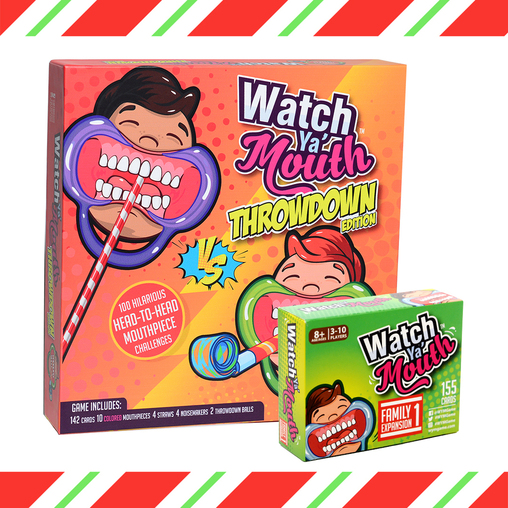 Watch Ya' Mouth Throwdown Edition is the evolution of the original, wildly popular, hilarious Watch Ya' Mouth game. Rather than just speak phrases, players now go head-to-head with hilarious and challenging tasks – while wearing mouthpieces. Throwdown Edition takes competition – and laughter – to the next level and builds on the multigenerational gaming phenomena.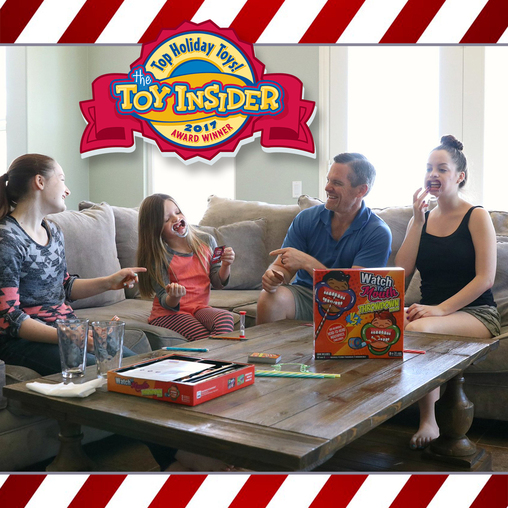 Throwdown Edition has already been Awarded Top Holiday Toy of 2017 by Toy Insider & selected for the 2017 Amazon Holiday Toy List. That's some pretty stiff competition. There are thousands of toys submitted every year and I've been part of the committee that votes on the toys. It's not an easy decision.
The mouth pieces are dishwasher safe so you can clean them after use. The game is recommended for ages 8 and up. You can learn it in seconds, play it for hours, and create lasting memories with your friends and family. We're a small, independent, and extremely hard working team whose mission is to make you laugh. Join us, and welcome to the party!
It makes for a great holiday gift too and you can get 15% off Coupon Code: 15THROWDOWN @ http://amzn.to/2i6NKwG
What you'll get:
100 Throwdown Cards, 42 Phrase Cards, 10 Multicolored Mouthpieces (6 Regular and 4 Small), 4 Throwdown Straws, 4 Noisemakers, 2 Throwdown Balls, 1 Throwdown Dice, 1 Sand Timer