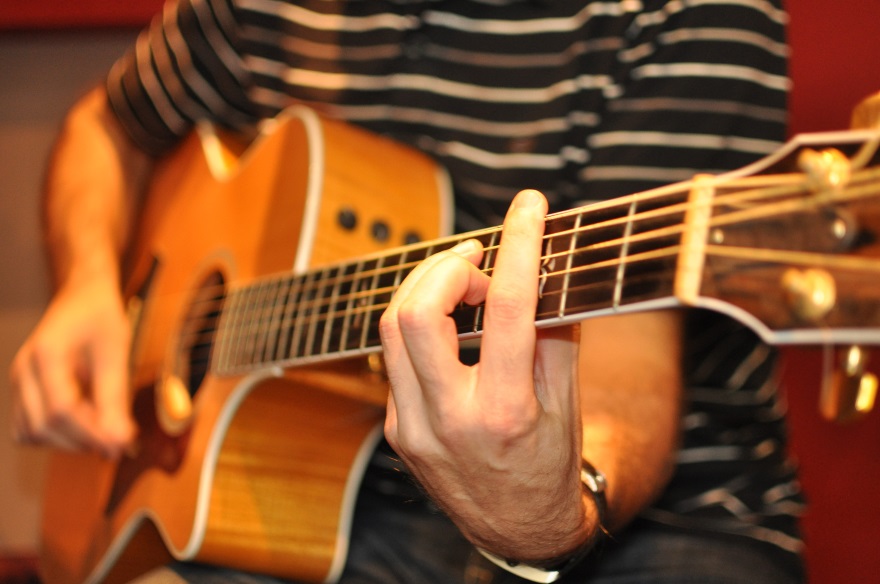 If you are considering learning guitar, then the first thing you obviously have to do is to buy a good quality guitar. But since you are a novice, you might know what to look out for when buying the instrument. To help you out, we list the four things you definitely have to consider when buying your first guitar.
 Type Of Guitar
You have to decide the type of guitar you want to use. Basically, you will have two choices – acoustic or electric. While the acoustic guitar produces sound through vibrations, the electric guitar uses electricity to generate the sounds. And one big difference between the two that you need to account for is the cost – electric guitars are more costly than the acoustic ones. It is recommended that you start using the acoustic guitar first, and then later move onto the electric one. This will not only save you money but will also make you a better guitar player.
Accessories
When you start out with the guitar, you will need additional accessories like a guitar stand, capo, picks and so on. And for electric guitar, more additional accessories will be required. Make sure you consider the cost of accessories too when deciding on the budget. Else, you might blow up all your money on the guitar alone and will be unable to buy most of the accessories.
Used Or New
You may also be tempted to choose between a used guitar and a new one. Though a used guitar will cost less, you should ideally stay away from it. This is because you don't have the knowledge to judge the quality of a guitar. As such, you won't know what to inspect when buying a used guitar. If you stick with a new guitar, then you are guaranteed to get a perfect product. But if you are really cash-strapped, then a used guitar may be your only choice.
Where To Buy Your First Guitar
If you compare the online and offline prices of any new guitar model, there is a good chance that you might find the online option to be a better deal. However, price should not be your only consideration when buying the instrument. Since you are just starting out, there is a good chance that you will need help with fine-tuning and taking proper care of the guitar. If you choose to buy online, then this after-sale benefit will not be available. Instead, if you choose to visit a store and buy from there, you can count on the store owner to help you out with the instrument in case it develops a problem you are unable to resolve yourself. So, even though you may have to spend a couple of dollars extra when purchasing through a store, it is recommended that you do so when buying your first guitar.
Keep the above points in mind, and you shouldn't face too much difficulty in finding a guitar that is comfortable to hold, suits your style, and fits your budget. Plus, visit the MusicCritic website, browse through the 100+ Music Equipment Reviews by MusicCritic, and find out their guitar reviews and tips. This will help you in not only choosing the right guitar, but also the right accessories.