Who wants to come over for some fresh brewed coffee? I can't believe i have a French Press. Now, I just need to learn how to use it. Good thing they include a "How To" video on their page.
I've heard great things about french pressed coffee but, I must confess that I've never made it nor have i ever tried it. When I got this french press from Ultimate Kitchen I was really excited to to a step by step video but, alas I realized that I didn't have the right coffee.
You need to have your coffee ground to a specific consistency in order to get a great brewed cup of coffee. Regular pre-packaged ground coffee that you buy in the supermarket won't work. You can either grind the beans yourself or do as most people do and have the place where you buy your grounds do it for you. Just make sure that you let them know that it's for a french press.
Taking a look at Ultimate Kitchens "How To" video it's quite a process but, I'm guessing that's what lends to the great taste. I don't mind taking my time with things if it's going to turn out delicious.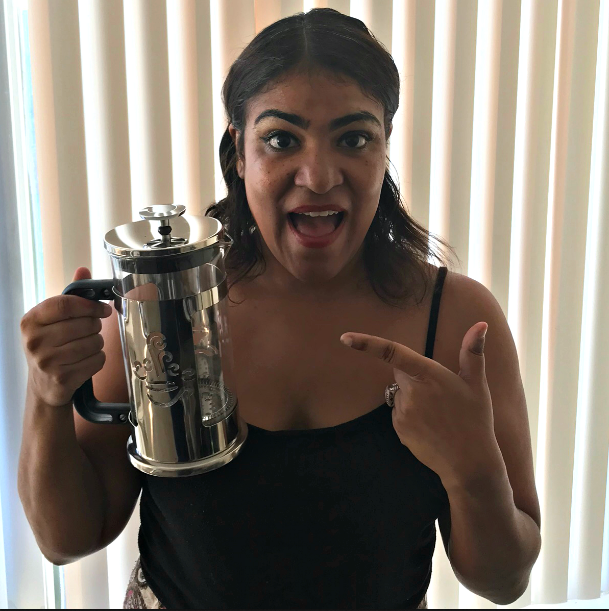 This French Press makes 4 cups of hot and delicious brewed coffee. It has a unique precision 3-part Filter Design removes all grounds leaving you with a perfect cup of rich coffee and if you don't want to watch their  video then you can read the directions on how to make a perfect french press brew right on the box that the brewer come in. Now that's convenient.
This is a great gift for the coffee lover in your life or as a housewarming gift or even as a treat to yourself so you can indulge in the deliciousness of a fresh brewed, french pressed cup of joe.
You can get your very on french press brewer from Ultimate Kitchen's website or on Amazon.com.
 I received this item for review purposes. All opinions are mine.