What do you look for when setting out to buy bed sets? For me, it's 3 (three) very simple and basic things that I look for when I'm searching for great bed sheets so, when Empyrean asked me to review their luxury bedding I was ready for the task.
How Do The Bed Sheets Feel?
The very first and most important thing I look for when buying bedsheets is how they feel on my skin. No one wants to sleep on rough sheets. Or sheets that are too hot with no breathability.  Or ones that are too thin.
Empyrean is described as luxuriously soft and sleek fabric and I would have to agree. The material is very soft on my skin. It feels comfortable and smooth. It's made from strong microfiber linen. I loved the feel of the pillowcase on my face. It does have a hotel luxury bedding.
I have to say that Empyrean passed my number one test. I'm always doubtful when purchasing bedsheets online because you can't touch or really inspect the quality of the fabric until you get it but, I'm happy to say that these bedsheets are pretty impressive in the feel department.
How Do The Bed Sheets Fit on The Bed?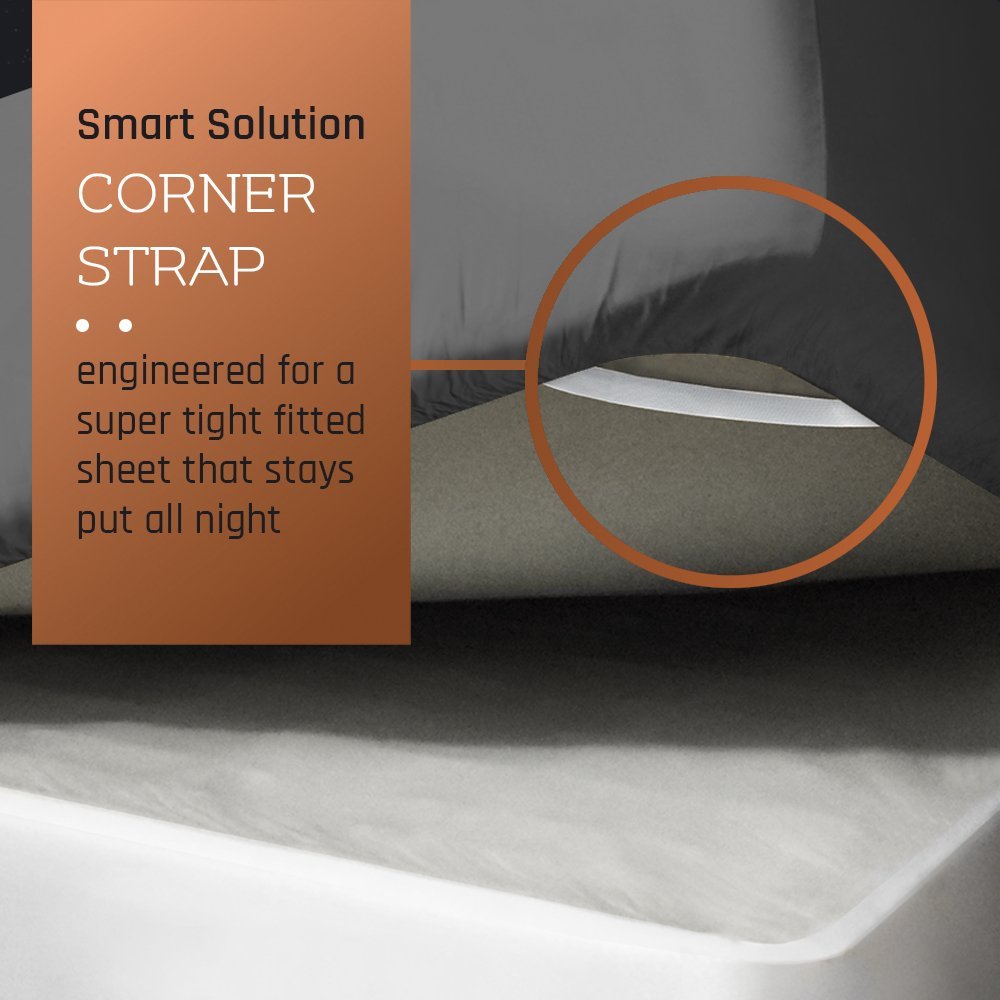 We've all had the bedsheets that pop out of the corners and never fit quite right on the mattress and that can make for an uncomfortable nights sleep. The Empyrean bedsheets completely eliminate the possibility of that happening with these elastic corner straps. How clever.
In the past you would just buy mattress straps to secure the beds heet on the mattress but the Empyrean luxury bedding comes with them built in. I love it. The bed sheet fits completely snug and doesn't move once it's in place. This is the definition of luxury bedding.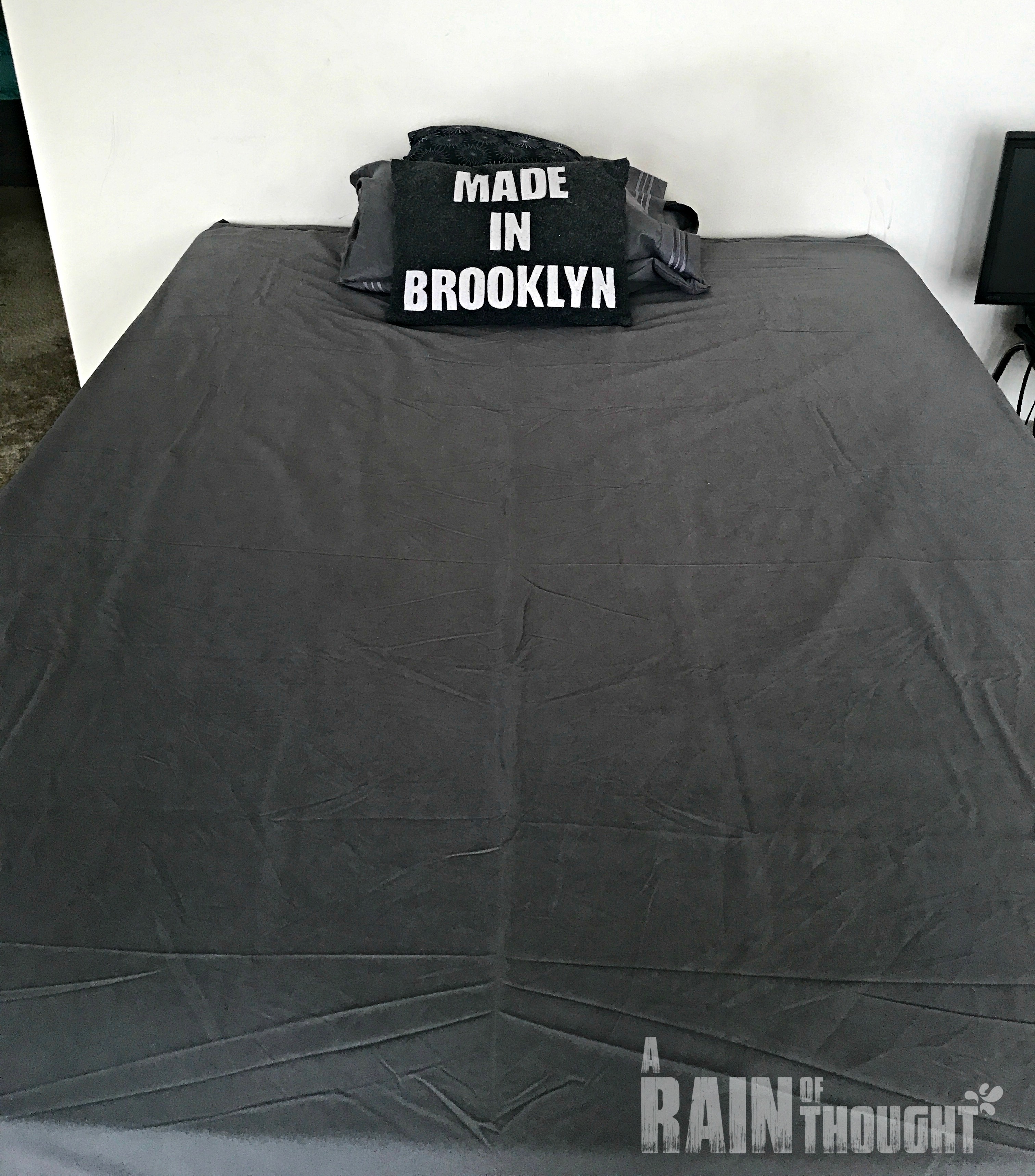 I had to show my bed so you could see how snug the bed sheet fits. I placed it on straight out of the box hence the creases but hey, it looks and feels amazing.
What is the Durability?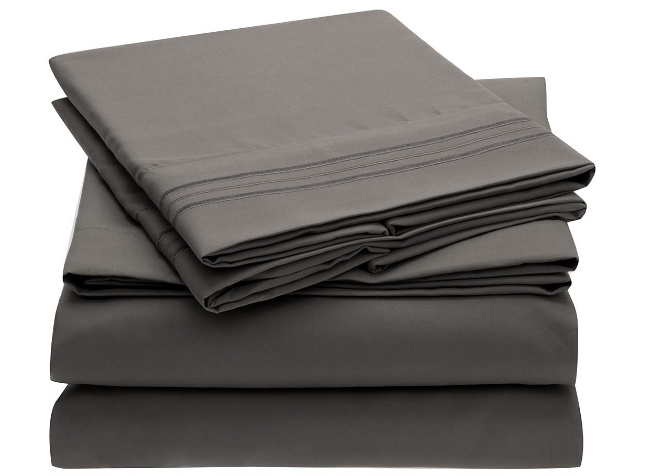 Being that the bed sheets passed my first two tests I'm going to guess that they pass the third too which is basically how well they stand up to wash after wash after wash. Usually you can tell within the first washing if a bed set is meant to last.
Poor quality sets already start fading in color and the material starts to thin out. These looked pretty good after the first washing. I've only had a chance to wash these bed sheets once before doing this review but, they looked pretty good. According to the site they are fade, stain, shrink and wrinkle resistant. If anything changes with in my next 5 washes, I'll come and update this review.
You can purchase your own set of Empyrean Luxury Bedding on Amazon.com. I received a Queen size set in grey but they come in 13 different colors including black, white , red and taupe to name a few. The bedding set includes
a flat sheet, a fitted sheet, 2 pillowcases and additional corner strap on fitted sheets. PURCHASE HERE.
Win $1000 + Free Bedding + Free Coupons!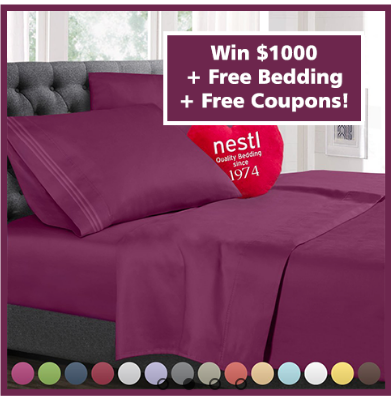 WOW – WIN FREE Luxury Bedding! – Enter via sharing w/ Friends.
We are giving away 120 Empyrean & Nestl Bedding Sheets
Make sure to share this contest with your friends to enter our FREE giveaway.
There will be a 2 winners each day.
We'll post the 14 winners of the week on our social Media every Friday.
Make sure to follow us on Facebook, Twitter & Instagram.

(no purchase necessary)
Win $1000 – Photo Contest!
Upload images of your new Bedding. Invite your friends to vote for your images. Win $1000
(tip: people love images of you and your pets)
I received a set of the Empyrean bed sheets for review purposes. All opinions are mine. This post also contains affiliate links which means if you click and make a purchase my little piggy bank will be filled.