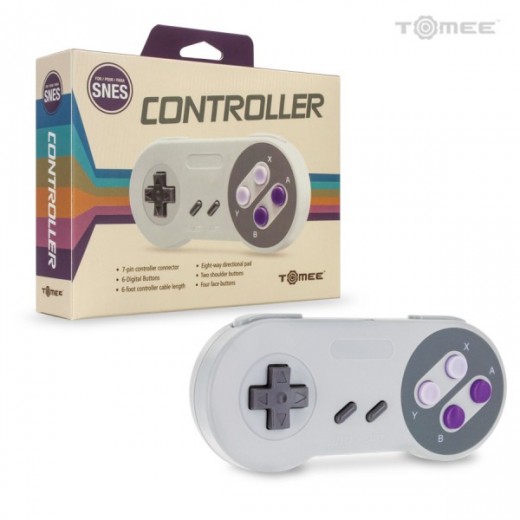 Nintendo recently announced that they are released and SNES mini this fall and that has gamers going crazy in anticipation. While they wait they can dust off their old consoles to reminisce but sometimes the controllers don't work or they're just completely missing. This SNES Controller by Tomee is a perfect replacement.
SNES Controller by Tomee|$9.99
The Tomee SNES Controller provides the same retro experience you've come to know and love. The controller features an eight-way directional pad, 2 shoulder buttons, and 4 face buttons. The 6-foot cable allows for easy movement around your console. It's compatible with all SNES models.
My son, who happens to be one of those gamers not so patiently waiting for the SNES mini to be released was kind enough to test this SNES Controller by Tomee for me and this is what he said:
"The controller does a good job replicating the look of the classic SNES Controller. While it doesn't have the most accurate feel. It is a good option for the person who wants a cheap new alternative without the hassle of betting on a second hand product."
He seemed satisfied enough with it to recommend it to those who are looking for a replacement controller so, i'm going to go ahead and give it the thumbs up myself. You can buy an original SNES Controller but, remember that it is used. This is a brand new piece.
You can find the Tomee SNES Controller at PlayersChoiceVideoGames.com which also happens to be a great place to buy, sell, and trade classic and new video games. They have a large selection of classic video games as well as cheap video games for sale. Our stock includes many rare "out of print" video games from the Nintendo, Super Nintendo, Sega Genesis, Dreamcast, Playstation and Nintendo 64 platforms, as well as the Latest Wii, PS3, and Xbox 360 Games and Accessories.
Are you excited about all these retro game systems coming back?
I received the SNES Controller for review purposes. All opinions and thoughts are mine and of course my sons.