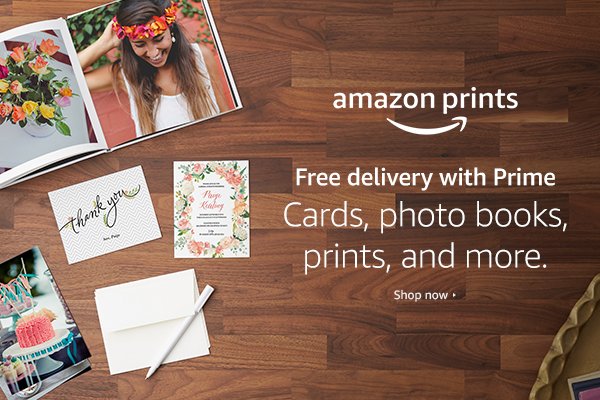 Amazon Prints is a photo printing service that allows all customers to print their memories.  Prime members can upload images to their Prime Photos account, print the product of their choice, and receive free delivery. If you're not a Prime member, you'll receive 5 GB of storage free on Prime Photos and be able to print your favorite photos.  Prints start as low as $0.09.
I love that Amazon offers so many services on their platform that makes it pretty much a one stop shop. They have their everyday items, their streaming service, music and if you recall I talked about their family vault feature. Well now they've gone a step further and included photo printing.
Printing Pictures right from your Amazon account is so easy and with graduations, wedding and Father's Day coming up you can get that magical photo and print it on a mug, a calendar, photo books, photo canvases or just a good old fashion print to photo paper. There really is no limit.
I would love to print a photo book for my mom of all her grandkids. You can't beat the starting price of $7.99 for something that will bring lasting memories. If you have Amazon Prime then you have free unlimited storage for your uploaded photos and free delivery of your prints. If you don't have prime, that's okay. You can still use the service and have up to 5GB of free storage.
I think you should give Amazon Prints a try if you haven't already and if you want a bit of extra pocket change to print your photos then enter our giveaway below. One lucky reader will get a $1000 Amazon Giftcard to use as you wish. Dad can get that massive canvas print out of his favorite car for Father's Day that mom will make him keep in his mancave or you can just splurge on yourself. Either way, good luck and print away.
You can learn more about Amazon Prints here.
Have you tried Amazon Prints yet? If not, what are you waiting for?
Thanks to Amazon for sponsoring this post and providing prizes for the giveaway!
Amazon, Fire and the Amazon Fire TV logo are trademarks of Amazon.com, Inc. or its affiliates.