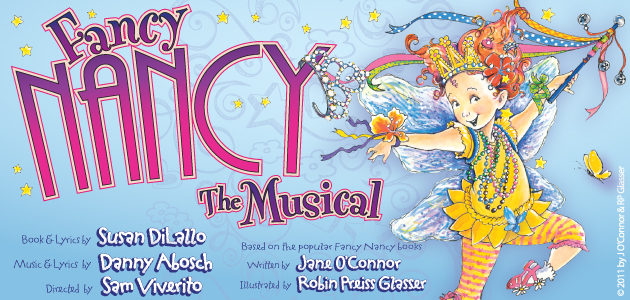 Fancy Nancy now has her very own musical! This CD makes the perfect gift for fancy kids of all ages!
"An irresistible collection of ingenious tunes by award-winning composer/lyricist Danny Abosch and lyricist Susan DiLallo." –NYMetroParents
Fancy Nancy and her friends, Bree, Rhonda, Wanda, and Lionel are going to be performing in their very first show, "Deep Sea Dances." Nancy is positive, that's fancy for 100 percent sure, that she and Bree will be picked to be mermaids. When another girl wins the coveted role of the mermaid, Nancy is stuck playing a dreary, dull tree. Can Nancy bring fancy flair to her role, even though it isn't the one she wanted?
Even if you haven't had a chance to see the play yet, you and your kids will love this adorable soundtrack with songs like "Anyone Can Be Fancy" when Nancy sings:
Yes, anyone can be fancy!
Being elegant is what I love to do.
So, suivez-moi! That means "follow me!"
And voilà! You can be fancy too.
Even encouraging her friend Lionel  who thinks being fancy is just for girls.
Then there's my favorite, "You'll Always Feel Much Better After Tea". Because, it's true. Try it. You'll see.
The soundtrack for Fancy Nancy The Musical is available on  Ghostlight/Sh-k-Boom Records and can be purchased as a physical cd on their website or as a digital download on iTunes. If you purchase on Ghostlight/Sh-k-Boom Records, you can use our special code : USFAM at checkout to get 15% off and free shipping.
Hope you enjoy the cd and while you wait for it to arrive, check out this clip from Fancy Nancy The Musical to get a taste of all the fun you're in for:
FANCY NANCY THE MUSICAL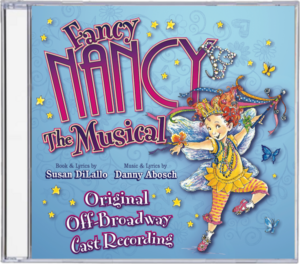 Album Tracklist:
1. Overture
2. Anyone Can Be Fancy
3. What I'll Be
4. I'm A Tree
5. You'll Always Feel Much Better After Tea
6. On My Team
7. Something Terrible
8. You'll Always Be My Star
9. Shark Rap
10. The Deep Sea Dances Ballet
11. A Fancier Place
I received a copy of "Fancy Nancy The Musical" for review purposes. All opinions are mine.