I have horrible posture. I recognize that part of that has to do with the fact that I have mild scoliosis but, I do really try to make an effort to straighten out when I notice that I'm slouching. I slouch a lot. Cush Comfort aims to help people like me to better their posture, at least when they're sitting down.
The problem with slouching and poor posture is that it affects the rest of your body. It can also make for easy injury when working out or running. I try, I really try. I even have one of those ergo-dynamic chairs in the office that's supposed to help. I still find myself slouching in it but, not since I've been using the Cush Comfort.
I want to make it clear before I continue this review that The Cush Cushion is not a solution for back pain but rather an aid to better your posture. I have to make that distinction because a lot of times people are so desperate for relief they'll see the first thing that mentions 'back pain' and think it's an instant solution.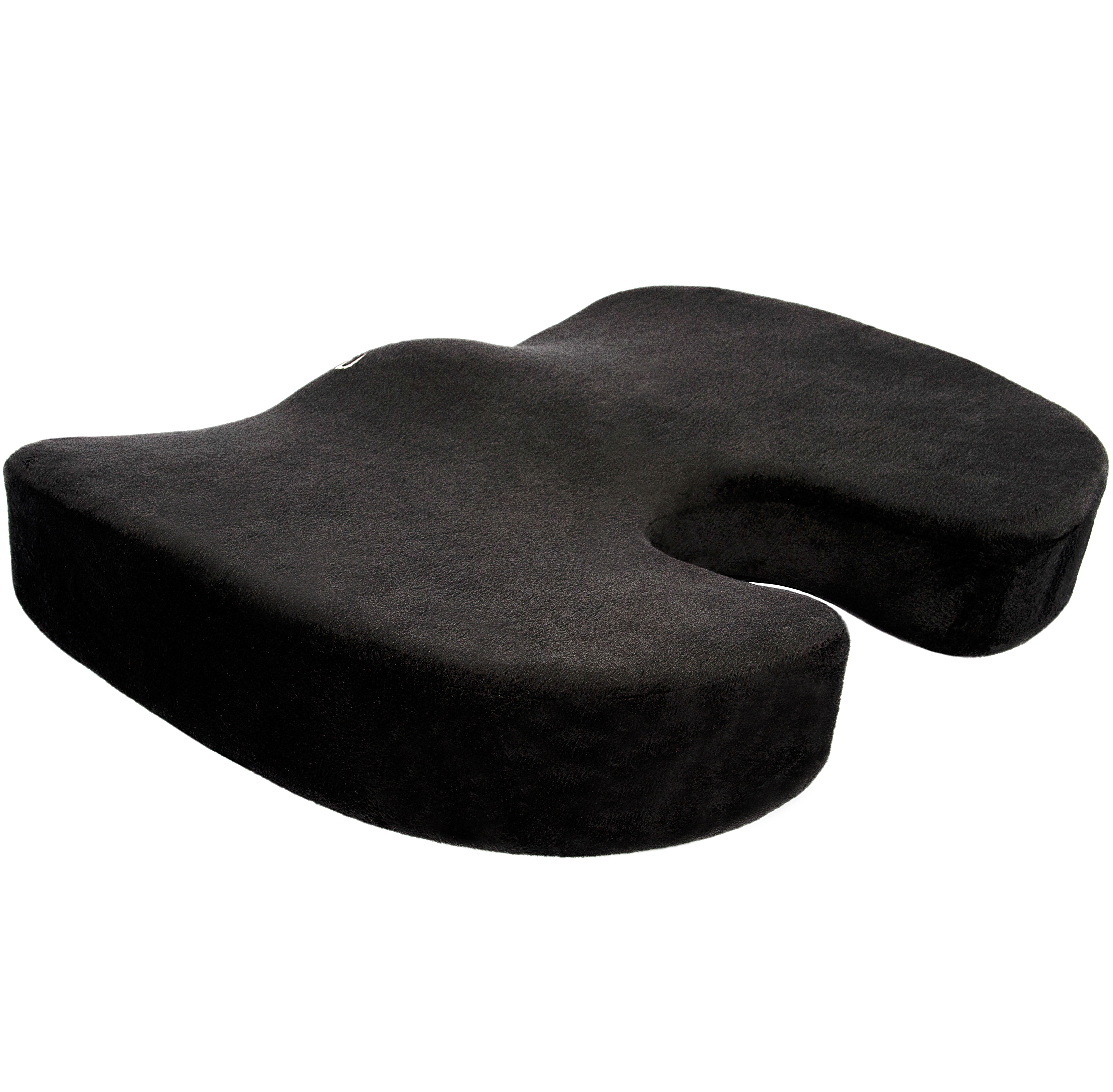 Pop Culture References Galore for Cush Comfort!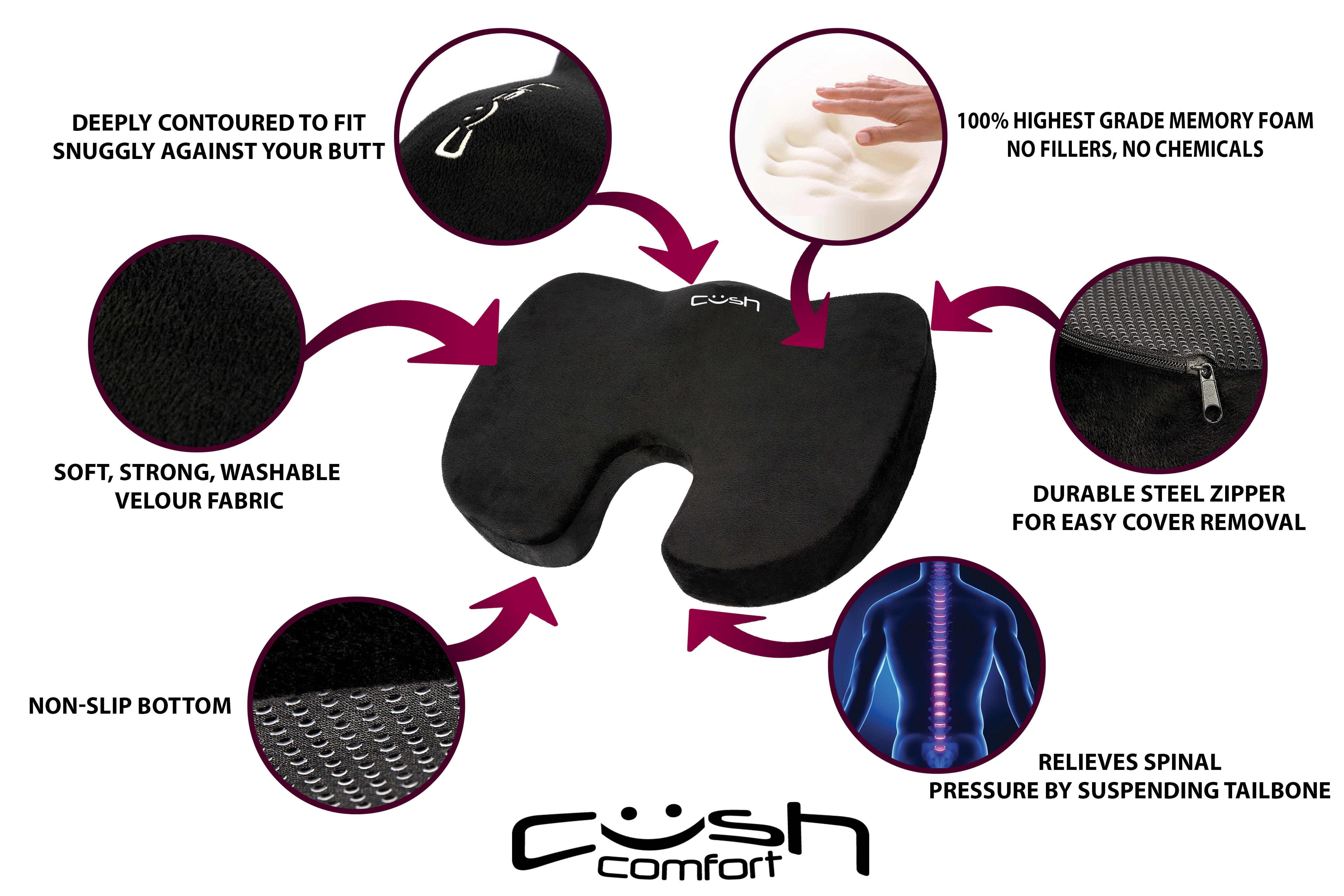 When I first took the Cush Comfort out of the package my first thought was "What is that VELVET?!?". For those of you who have seen "Coming to America" you get it. For those who haven't….please do so soon. Well, it's not velvet. The cover is actually velour. It's so soft but durable and removable so you can wash it. The bottom of the cover has little non-slip beads so the cushion doesn't slide off of the chair you're sitting on. It stays right in place. The cushion inside is memory foam and fits to the contour of your tush.
My second thought when I looked at the cushion is that it bares a stricking resemblance to the Wu-tang symbol. As a hip hop head, that brought me great joy.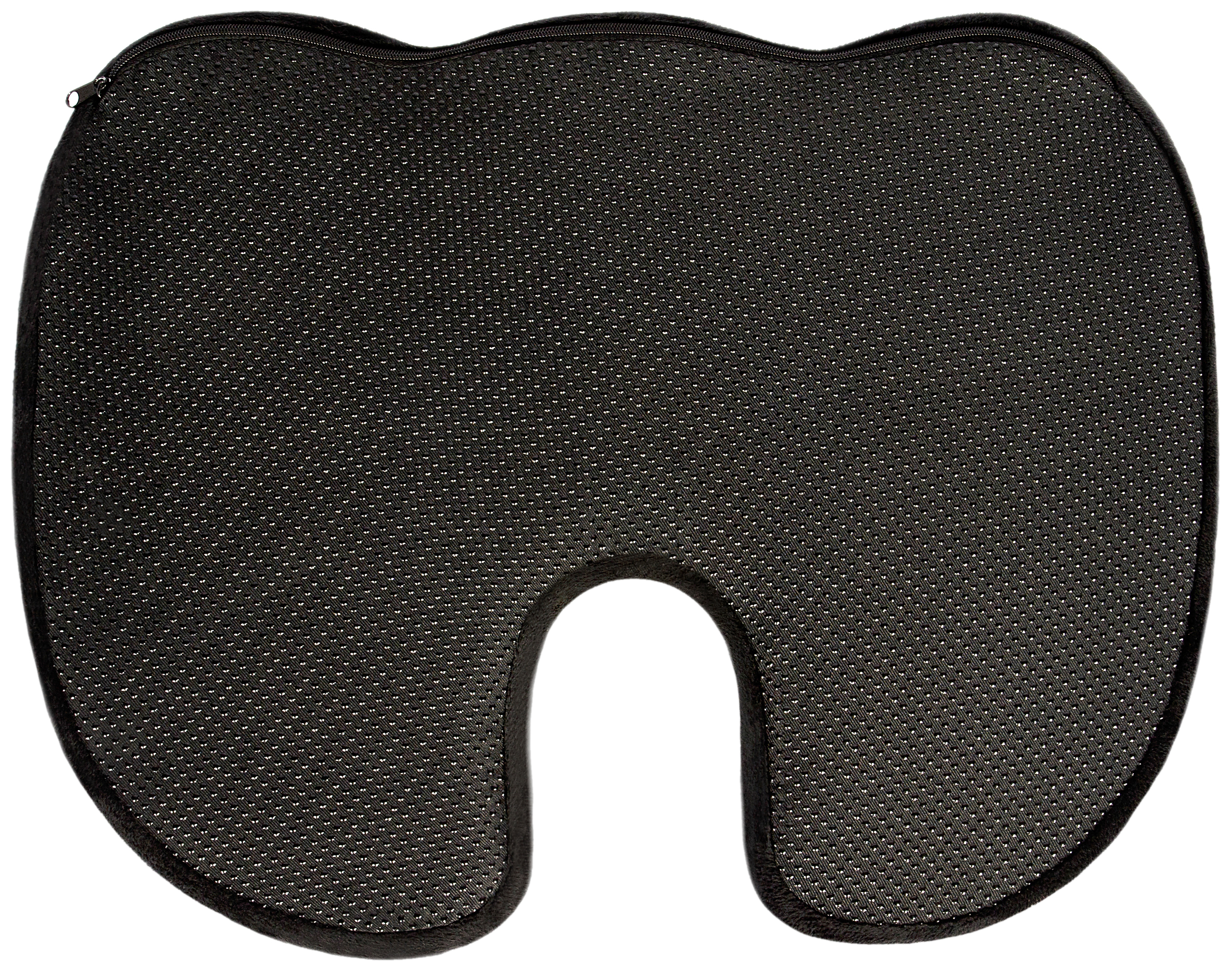 But is it Comfortable?
I found the cushion extremely comfortable. My coworker is jealous of me, it's so comfortable. It gives you a slight lift so, you might want to lower your seat a little bit. I, however, left my seat at the exact same height so I look and feel as if I'm looking over everyone. It's the little things.
The best thing about the Cush Comfort is that i do automatically feel myself sitting upright. I don't have to think about it or force myself not to slouch. The shape of the cushion is a Coccyx cut-out that suspends the tailbone and medically proven to provide relief from lower back pain, numbness, and point pressure associated with sitting for long periods.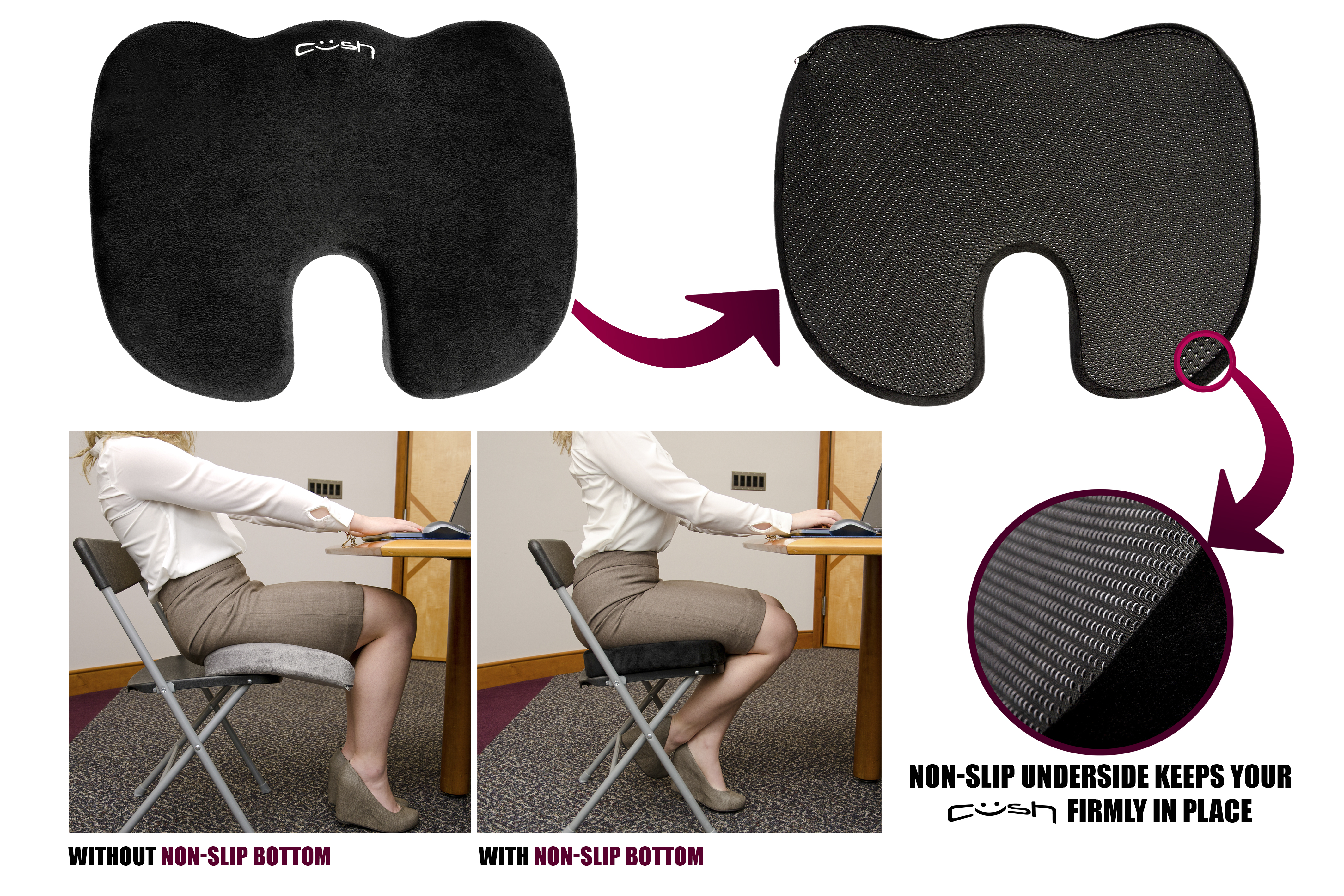 I know when you look at the picture it might seem that sitting that upright can get uncomfortable after awhile and it can if you don't have a Cush Comfort but, it absorbs any strain and you feel great.
As I said, I  have poor posture from mild scoliosis so I'm very aware of how straight I'm sitting now versus before and my back doesn't feel strained from trying to force myself to sit upright.
Do I Recommend the Cush Comfort?
Yes, I do recommend the Cush Comfort if you are looking to sit more comfortably and with better posture. It's lightweight so you can use it in the office and take it with you to sit in the car on the drive home or you can just buy two of them. The cover slips and zips on so it's easily removable and washable.
The Ergonomic shape  hugs your butt as you sit, eliminating point pressure and distributing support evenly so you can sit for longer without discomfort, improving posture and providing superior comfort.
If you get one, you're going to notice the difference right away.
Where Can I Get One?
The Cush Comfort is available at my favorite online shopping place Amazon.com. Woot! And my readers get a 10% discount if you use the following code:
10% Discount Code: 
clubcush
So, get your own Cush Comfort today via this link —> Amazon.com and make sure you use the 10% discount code. More importantly, make sure you come back and let me know what you think of it.
For more information visit: www.cushrelief.com/