I haven't weighed myself in a while. When I moved I didn't bring my scale with me so when I got the EatSmart Precision 550 Extra Wide Digital Scale to test out I went wild trying to weigh everything. I weighed myself with shoes on and without (there's a two-pound difference). I weighed myself holding my cats and then my dog which is a pretty clever way to see how much your pets weigh. I just went mad with power seeing how much things weigh.
Once I came down from that high, or low because I actually lost weight, I decided to take a better look at this scale.
I have to start by saying that I love the stainless steel look. My dream bathroom would have cherry wood accented with stainless steel. I just think it's a slick and modern look.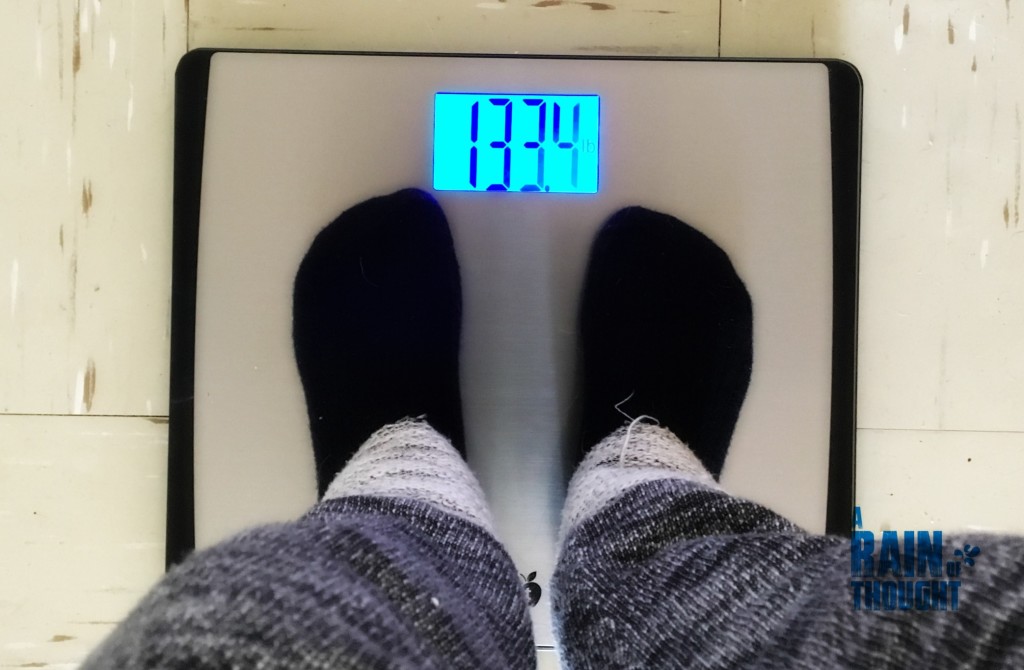 Moving on from the look, let's talk about the durability. This is a solid piece of equipment. It weighs a whopping 6.8 pounds which is pretty heavy but with good reason. It's made to hold up to 550 pounds. This thing is not going to break and it's also not going to move from where you place it unless you pick it up and move it yourself.
The scale is digital scale that takes 3 triple A (AAA) batteries. I would prefer if it was a solar powered scale but, the fact that it beeps when the weight has stabilized is probably the reason why it does take batteries.
The beeping is great. You know that your weight has been locked in once the machine beeps and it's loud enough to hear clear but, not obnoxiously loud.
The screen that shows the numbers is huge. Stevie Wonder could see it from across the room.. I was able to read the numbers clearly even without my contacts on.
Another great aspect is that you can step off the scale and the weight will stay displayed for at least 5 seconds after you step off. This is great for heavier people and also pregnant women. If you can't see past  your belly it's okay. Just step off and take a look.
So, who should buy the EatSmart Precision 550 Extra Wide Digital Scale?
If you're a heavier person that wants to weigh yourself in the privacy of your home but, have an issue finding a scale that can take your weight then this is the scale for you. It can hold up to 550 lbs and as I said it's a solid piece of equipment.
If you're pregnant and need a larger scale that will be comfortable for you to step on without feeling like you're going to teeter over then this is great because it's super wide at 13 inches by 15 inches and if  you're in those later months and can't see past your belly then it's okay. You can step off the scale and the weight will stay displayed on the screen giving you enough time to take a look.
If you're tired of the flimsy scales that seem to break after a while then this is for you too. It's not breaking, it's not moving and it's not going to let you down.
If you want something stylish and fashionable in your bathroom or bedroom, the beautiful stainless steel look of this scale is for you too.
To summarize, I really love the look of the EatSmart Precision 550 Extra Wide Digital Scale and also that it benefits quite a few different types of people. I do wish it wasn't so heavy but, that's the price you pay to get something that's not going to break easily.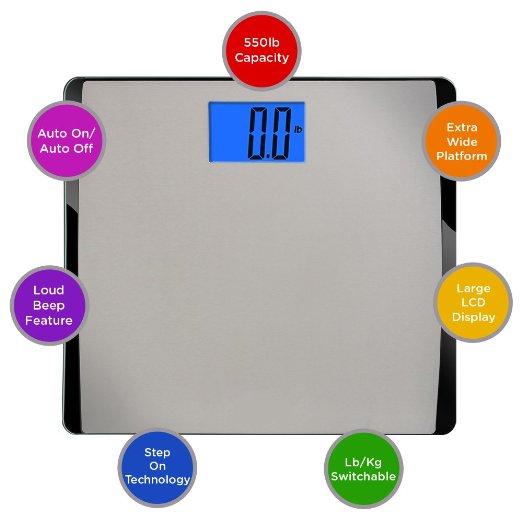 About the Product
550 lb capacity – HIGHEST IN THE CONSUMER MARKET (.2 lb increments) and Lb/kg switchable – 250kg
When weight locks in, scale will beep allowing user to step off and have an easy view of the readout
Large 3.7″ LCD display w/ blue backlight – easy to read from any distance or angle
3 x AAA batteries included in package
As with all EatSmart scales, the Precision 550 includes our 100% satisfaction guarantee and two-year warranty
You can purchase the EatSmart Precision 550 Extra Wide Digital Scale on Amazon.com.